Hanjalka Csabai at June 11, 2021
The epidemic has left office spaces empty but still generating costs. If we want to rethink the way we use our office space and look for ways to save money, it's good to know where we start, how much our office currently costs per person.
The DBH Serviced Office team would like to be a partner in rethinking our office concept, so they have gathered the key elements of a typical Category 'A' office in Budapest with a traditional 5-10 year lease. In addition to the obvious items such as rent, management fees or overheads, non-obvious cost items such as depreciation, internet service, human resource requirements, etc. were also identified and marked.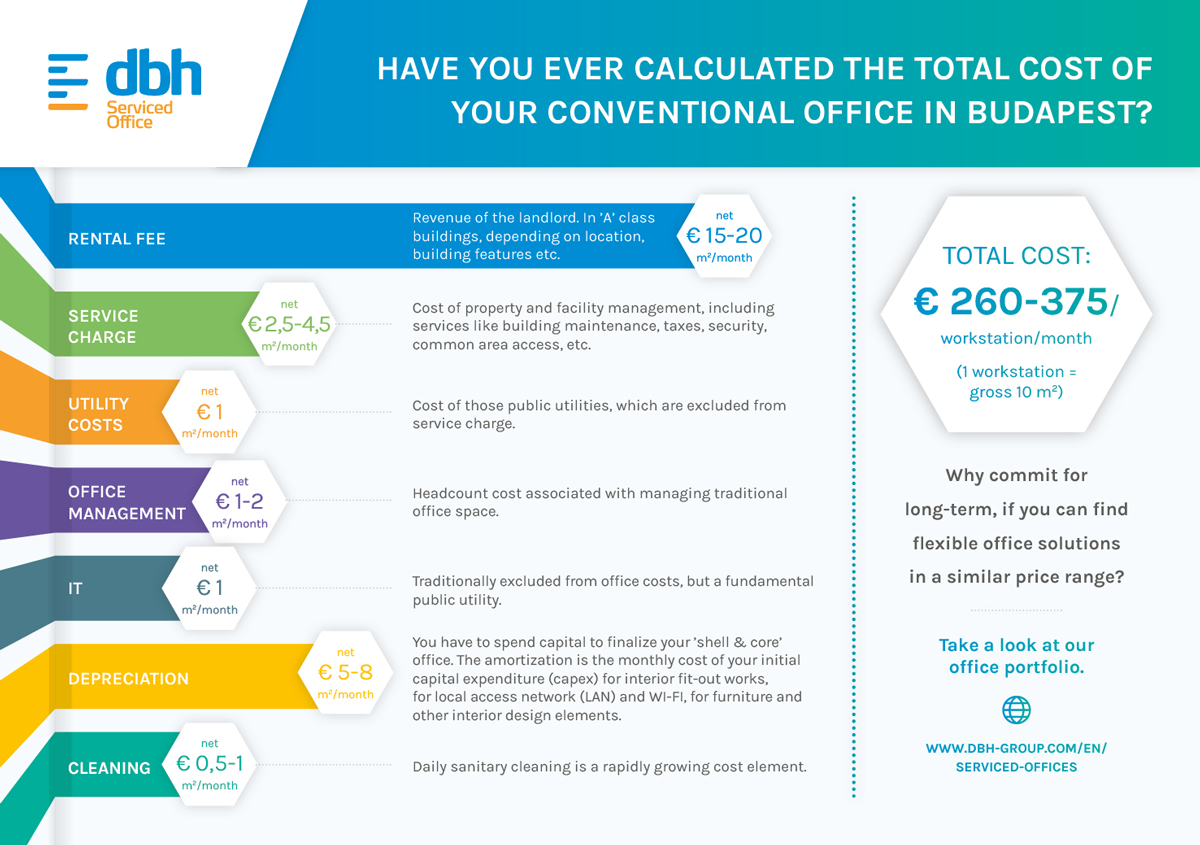 The conclusion: today, the cost of accommodating an employee (workstation) in an 'A' class office in Budapest is roughly between €260-375 per month. If we take a ten-year contract as a basis, then multiplying these figures by 120 months gives €31200 – €45000 (11-16 million Ft) for the cost of a single workstation over a ten-year period. This monthly cost is also incurred when X part of the team is in a home office for months at a time, or when permanently stop using certain office spaces and workstations due to a change in our office use.
The second part of this article looks at one possible way to reduce these huge costs.
Rethinking the office: reducing the total costs of office spaces
In the first part of our article, we reviewed the typical costs of a traditional, 5-10 year old, 'A' class office in Budapest. We have found that the total cost of housing an employee in an office (workstation) ranges from €260-375 per month, which translates into a total cost of €31200 – €45000 (£11-16 million) over ten years – whether we use our office or not.
If we want to mitigate this significant expense, one option is not to commit to a long-term lease with the office building, but only for 1-2 years. Short-term office leases allow us to flexibly adapt our office space more often to our changing organisational needs, eliminating the costs of vacant offices. In 5-10 years, you can see the money in your pocket.
Flexible office lease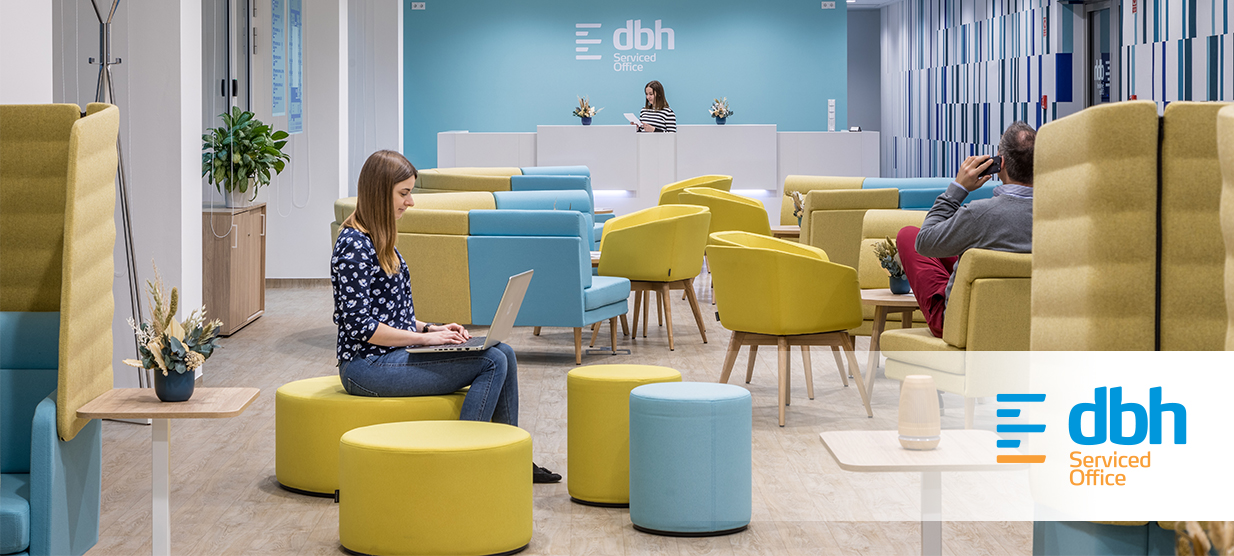 There are two types of short-term, and therefore flexible, office rental: coworking and serviced office In the former, the system is typically 'hot desking', i.e. all users sit wherever they find a seat in a large communal space, and there are shared collaboration and relaxation spaces. In serviced offices, on the other hand, each client has their own private office for exclusive use. For office requirements above 20 people, a fully customised, dedicated corporate space and service package is also available, with all the benefits of flexibility and time savings in terms of the human resources needed to run the space.
We can rent flexible office space for 1-72 months depending on your specific needs.
The conclusion of the cost analysis is that flexible office space is now available at a very similar price level to the workstation costs of traditional offices calculated above. Today, this means a monthly fee of €150-300 per workstation for coworking in Budapest, while for serviced offices we can expect a monthly fee of €250-450 per workstation in Budapest.
Last but not least: a traditional office lease is not only very difficult to modify downwards in terms of space, but also to manage a possible increase in staff (if there is no space available in the office building, it is not possible). Flexible offices are an effective tool for business growth as a result of dynamically changing office space, meaning that the space required can be expanded based on actual business needs and current team size, resulting in office costs that match specific business needs and significant cost and labour savings without capital investment.
The DBH Serviced Office team is committed to making office rentals flexible, feel free to contact them for an informal consultation: